How to Find Designer Dupes (5 Secret Methods)
Welcome to my "how to find designer dupes" post…
But before I continue, I have to first get this off my chest.
I've literally received more than a hundred emails from readers of this website asking this ONE question:
"How do you manage to always find the best designer dupes?"
Today, I'm FINALLY going to answer that questions and share my whole process with you.
Specifically, how you can find the perfect designer lookalikes for most on-trend designer items you spot online.
Ready? Let's get started.
How to find designer dupes (5 methods that always work)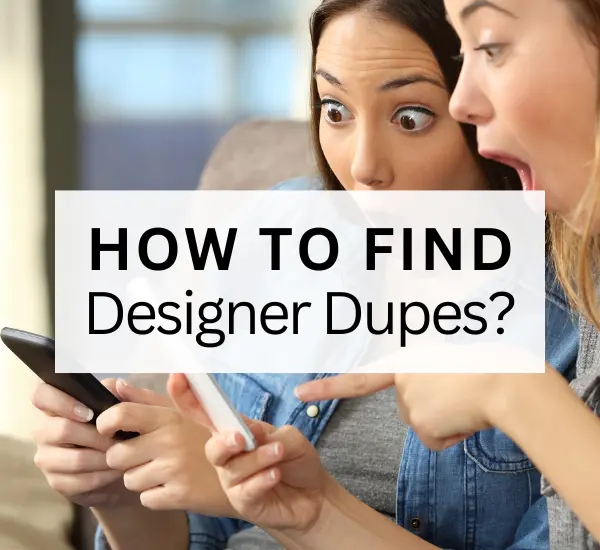 Google search by Image: Also called the Google reverse image search uses an image you upload or keywords you enter to return image-based results. An image upload search typically will return better results than keywords. Because Google matches that image with its lookalikes wherever it exists on the world wide web.
Google Lens search: Work similar to the Google search by image, except that Lens can actually identify things in a picture, like products, people, text, and more. You're very likely to return an EXACT match of the dupe item pictured.
Website-specific search: Every online marketplace such as Amazon, Etsy, etc have their native search functions. It's nothing compared to using the Google search methods above, but it works.
Pinterest-related products search: I use this as a last resort when I don't know where to start with an item I have in mind.
Secret search methods / Experience: Apart from the seemingly "obvious" search methods outlined above, there are other ways I find designer dupes that are not conventional. This can only stem from experience doing these types of searches regularly for a long time.
Continue reading for the exact step-by-step process:
How to Find Designer Dupes on DHgate
DHgate is a Chinese-owned online eCommerce store and it's one of the 3 websites (mentioned earlier) I turn to when I want to buy high quality dupe items in bulk or wholesale. Finding designer dupes on DHgate follows almost the same search methods for Amazon such as:
DHgate keywords search – Sellers on DHgate use some special unintuitive keywords to list designer dupes. Know these keywords and you'll find the dupes.


DHgate screenshot search – This is the standard uploading of a designer item screenshot in the DHgate mobile app to find matching dupes. This works really well because major designer brands are in the USA and don't sell on DHgate. Therefore, doing this type of search on Dhgate will almost always return a designer dupe for that brand. And what's even more interesting is the dupes from the searches don't ever have prints or logos on them.
DHgate designer bag dupes without logos or identity prints
But then, the method which I mostly prefer to find dupes on DHgate –reliably– at all times is going with the same trusted sellers. DHgate has a slew of sellers that specialize in selling particular designer dupe items more than anything else. The quality to expect is usually directly proportional to the amount you're paying. The higher you pay the better quality of dupe item you'd receive.
DHgate trusted sellers finder – I maintain this list of the top DHgate designer dupe sellers so far and categorized them by brands for easier and safer shopping. (List is linked below).
Learn more: Click here for the full step-by-step guide on how to find designer dupes on DHgate
How to Find Designer Dupes on Amazon
Amazon is one of the top three websites I buy designer dupes from, but it quickly became my goto source because of how easy it is to return items when you're dissatisfied or when items don't match the expected quality. Typically, I had two methods to find designer dupes on Amazon that works really well which are:
Amazon native search – This is essentially using the keywords of the designer dupe you're searching and mixing it with a little bit of common sense to get desired results. Because Amazon like the others, doesn't like when you use the words "dupe", "fake" or "faux" in conjunction with a designer brand name in search.


Amazon app image search – When you upload an image of a designer item the system would fetch that exact designer item PLUS a variety of matching dupes that costs way less. I can say this works for 8 out of 10 searches.
But then, recently I added a third sure-fire way to my list of finding designer dupes on Amazon. I figured out this method after Amazon found this website and decided to ban my Amazon affiliate account for teaching you guys exactly what you're reading right now, "how to find designer dupes on their Amazon website". (It's a long story, but you can catch the full gist on the Amazon post I linked below)
Use Amazon's own designer dupes list – Although Amazon states in their terms of service that bloggers shouldn't use the terms "dupe", "faux" or "fake" to lead shoppers to products that are stylistically similar to designer brands on their website, they

sneakily

maintain a list of designer dupes items they promote with ads on Google search. Find that list and you've struck gold on a long list of designer dupes more than I could ever list in a blog post for you guys.
Learn more: Click here for the full step-by-step guide on how to find designer dupes on Amazon
How to Find Designer Dupes on Aliexpress
There is no denying that Aliexpress is a great place to find designer dupe items. You'll agree with me if you've shopped on the site before. Just like DHgate, we follow almost the same conventional approach to finding designer dupes on Aliexpress that we've earlier discussed. I'm not going to mention those again.
But the striking method which I recently discovered for finding dupes on Aliexpress is the hidden links system. Aliexpress is a little stricter in disallowing replicas to be sold on their website, because of this some sellers devised a means of going around those restrictions using what is now known as the Aliexpress hidden links.
Cross-section of an AliExpress hidden links website
I detailed how this works in the post linked below if you're interested.
Learn more: Click here for the full step-by-step guide on how to find designer dupes on Aliexpress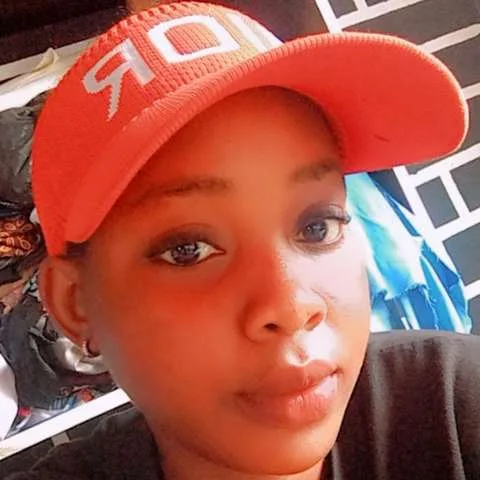 Hi, my name is Glamour I'm a tailor by profession and I love designer items. Whenever I'm not making a new dress, I'm on the internet shopping for dupes of expensive designers and I share most of my finds with you on this blog.